App #530700 categories:
Local Co-op
,
Multi-player
,
Single-player
,
Includes level editor
,
Online Co-op
,
Partial Controller Support
,
Online Multi-Player
,
Local Multi-Player
,
Co-op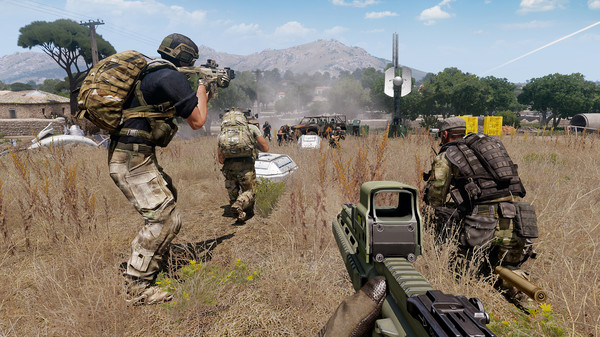 Jump straight into combat in this official standalone FREE total conversion of Arma 3. Argo is a hardcore tactical first-person shooter, in which you fight across unrestricted terrain, and where a single bullet is all it takes. Master your craft to rank up and become (in)famous on the battlefield.
Key Features in Argo
Clouds vs Flames - Take on the role of a mercenary and be contracted by one of two rival factions.

Start out as a rookie operator and gain experience to unlock new weapons, attachments, and gear.


Malden 2035 - Be deployed to the 62 km² Mediterranean island of Malden - a modern re-imagination of a classic Bohemia Interactive terrain. Ranging from dense urban areas, to wide open plains, and other unique points of interests, Malden features a variety of combat zones that have been built to provide an optimal experience for each game mode.

3 Competitive Game Modes - Compete as part of a 5-man unit across 3 different competitive game modes. In Clash, two units battle over territory in a series of combat engagements.

In Link, the objective is to capture a chain of points before the enemy takes control. Raid tasks one unit to find a data terminal while the other unit needs to defend the three possible locations.


Combat Patrol Co-op Mode - Team up with up to 10 hired guns, and fight against AI opponents in an open-world setting. Thanks to the randomized objectives and procedural generation of enemy forces, each session of Combat Patrol is different.

Success depends on your ability to plan, work together, and adapt to new challenges.


3D Scenario Editor - Build and play your own missions using a built-in Scenario Editor. With its intuitive interface, you can place entities, assign waypoints, set triggers, and much more, in just a few simple steps. Creating your own content is more fun than ever before.
Argo is available to play for free, but if you would like to support our project, you can purchase the completely optional 'Argo Supporter's Pack'. As our way of saying thanks, the Argo Supporter's Pack comes with a few cool rewards: 13 exclusive animations for the MVP screen at the end of each match, a bundle of 23 unique apparel items, the ability to use vehicles in the 3D Scenario Editor, access to premium Argo Supporter servers, and the names of supporters are highlighted on the leaderboards.

We salute you for your support, and look forward to fighting side-by-side on the Malden battlefield! - The Argo development team

If you like Argo, then also be sure to check out Arma 3! Bearing many similarities to Argo, Arma 3 offers a truly authentic combat experience in a massive military sandbox. Defeat your enemy on richly detailed, open-world battlefields - stretching hundreds of kilometers.

Head into combat on foot, drive armored vehicles, or take to the skies in helicopters and jets. Deploying a wide variety of single- and multiplayer content, over 20 vehicles and 40 weapons, limitless opportunities for content creation, and more than 3 million players, Arma 3 is the premier military game on PC.

Argo was originally released as part of Bohemia Incubator in the form of the "Project Argo" prototype. Bohemia Incubator is a label for experimental Bohemia Interactive games that are made available to the public early in their development.

Find out more at https://incubator.bistudio.com and learn how you can help shape our future.